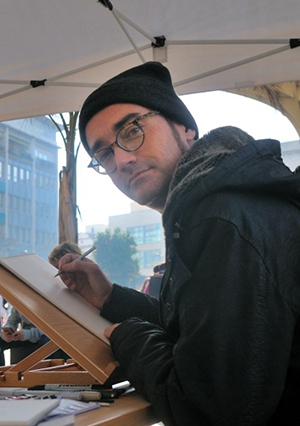 José Luis Ágreda
is a freelance illustrator and cartoonist since 1998. His work frequently appears in newspapers and magazines (El Pais, El Jueves, Fotogramas, Orgullo y Satisfacción...), and in the main spanish book publishers (Planeta, Norma, Santillana, Pearson, Espasa...). 
He is the Art Director of the animated feature film "Buñuel in the labyrinth of the turtles", to be released in 2018.

His other credits include projects in advertising (Ogilvy, Draft...), and character design for animation (Disney TV, Siriol Productions, Neptuno Films...)
In 2008 he started a series of fifteen children books with his character CARLA (Timun Mas).
He created the graphic novel, "Pink Harvest" (Undercomic), in 2001 and the book received the "Best Spanish Comic" award in both the Barcelona and the Madrid comic conventions.

E-Mail:
   jlagreda@gmail.com
Disney TV
Apple
Ferrero Roché
Clip Studio
El País
El Jueves
Fotogramas
Qué Leer
Progresa
Neptuno Films
Ogilvy One Worldwide
Draft
Planeta de Agostini
Timun Mas
Temas de Hoy
Norma Editorial
Aguilar
Espasa Libros
Santillana
Richmond Publishing
Pearson Educación
Astiberri
Image Comics
Dibbuks
Comunicación y Publicaciones
Pasajes de Arquitectura y Crítica
Ediciones reunidas
Grupo Camaleón Creativos
Iskra
Siriol Productions
Mad Television e Interactivos
Estás en Babia
Marinva
La Cúpula
Media Vaca
La Factoría
Undercomic
Action Planet
Griker-Orgemer
MC Ediciones
Circulo de Lectores
Mi Querido Watson



El Jueves
Fotogramas
Qué Leer
Progresa
Neptuno Films
Ogilvy One Worldwide
Draft
Planeta de Agostini
Timun Mas
Temas de Hoy
Norma Editorial
Aguilar
Espasa Libros
Santillana
Richmond Publishing
Pearson Educación
Astiberri
Image Comics
Dibbuks
Comunicación y Publicaciones
Pasajes de Arquitectura y Crítica
Ediciones reunidas
Grupo Camaleón Creativos
Iskra
Siriol Productions
Mad Television e Interactivos
Estás en Babia
Marinva
La Cúpula
Media Vaca
La Factoría
Undercomic
Action Planet
Griker-Orgemer
MC Ediciones
Circulo de Lectores
Mi Querido Watson